About Cape May National Golf Club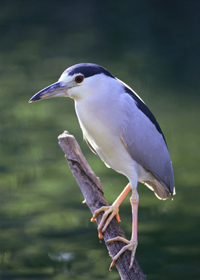 Cape May National Golf Club is one of the most natural golf courses ever built. Nicknamed "The Natural," the course surrounds a fifty acre private bird sanctuary. Cape May National started a new trend in environmental sensitivity in course design while providing a classic turn of the century golf course that golfers love. In fact, Cape May National goes back to its roots to the late 1800s and its predecessor, Cape May Country Club.
Cape May National is proud to be home to 2 of the 9 nesting pairs of black-crowned night heron in New Jersey (pictured right). The heron has declined steadily in number in recent years and is on the state's threatened species list.
Cape May National Staff
President/Co-designer: Robert Mullock
Greens Superintendent: Lindsey Baker
Director of Membership and Guest Services: Emilie Randolph
Director of Golf: Zachary Mullock
Assistant Director of Membership and Guest Services: Jennifer Iwasevic
Professional Emeritus: Skee Riegel
Skee Riegel, Professional emeritus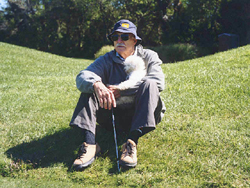 St. Andrews, Scotland
Walker Cup Champion undefeated 1947

Pebble Beach, California
United States Amateur Champion 1947; Played in sixteen Bing Crosby Invitationals
Pinehurst #2, North Carolina
North-South Open 1949; Low Amateur
Augusta National, Georgia
Low Amateur 1948; Second to Ben Hogan 1951; Played in eleven Masters
Winged Foot, New York
Walker Cup Team Champion undefeated 1949; US Open 1959 competitor; US Amateur 1940 competitor; USGA Senior Open 1980 competitor
Denver Country Club, Colorado
Trans-Mississippi Champion 1946
Baltusrol, New Jersey
USGA Amateur Medalist qualifying record (69-67 136)
US Open 1954 competitor
Witchita Country Club, Kansas
Western Amateur Medalist and Champion 1948
Oakland Hills, Michigan
US Open tied with Sam Snead for 10th 1951
Merion, Pennsylvania
US Open tied for 12th with Sam Snead 1950
PGA National, Florida
Shot 62 in exhibition with Bobby Jones 1948
Congressional, Washington DC
At age 47, qualified for US Open by shooting 68-69=137, finished 48th in 1964
Champion's Course, Houston, Texas
Qualified for US Open at age 55, 1969
Aronimink Golf Club, Pennsylvania
PGA Championship competitor 1963
Llanerch Country Club, Pennsylvania
PGA Championship competitor 1958
Carnoustie, Scotland
Defeated Francis Ouimet in Match Play at British Amateur 1947
Cape May National Golf Club, New Jersey
Skee Riegel Invitational 1998; at age 83, from Black Tees, Skee shot 37 on front nine to lead tournament with an 81